Eligible Students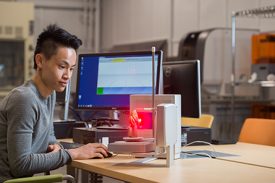 The Professional Science Management certificate is designed for graduate students in the Biology, Chemistry, Geography, Geology, Math, Natural Science Interdisciplinary and Physics departments.
The PSM Certificate is for students who:
Seek careers in science or technology fields related to industry, government,
or business.
Are interested in combining science and management.
Do not wish to pursue a PhD.
Want a hybrid degree geared to the new "Knowledge Economy"
Are looking for a competitive edge in the job market.
This is an excellent way for graduate students to attain two academic credentials simultaneously.
Still not sure if you should pursue the PSM? Get in touch with the Coordinator for a one on one conversation to discuss your goals and how PSM might help you achieve them.